1. Data Security & Protection Toolkit
2. Dementia Friends
3. Approved Trainer Centre
----------------------------------------------------------------------------------------------------------------------------------------------------------------
1. Data Security and Protection Toolkit
CNCA have met the standards required by the DSPT from NHS digital.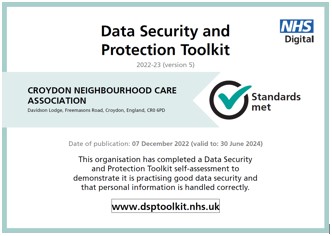 The Data Security and Protection Toolkit is an online self-assessment tool that allows organisations to measure their performance against the National Data Guardian's 10 data security standards.
All organisations that have access to NHS patient data and systems must use this toolkit to provide assurance that they are practising good data security and that personal information is handled correctly.
2. Dementia Friends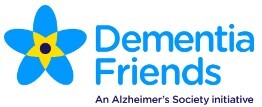 Too many people affected by dementia feel that society fails to understand the condition they live with. Dementia Friends help by raising awareness and understanding, so that people living with dementia can continue to live in the way they want.
Alzheimer's Society's Dementia Friends programme is the biggest ever initiative to change people's perceptions of dementia. It aims to transform the way the nation thinks, acts and talks about the condition.
CNCA Staff have all become Dementia Friendly.
3. Trainer Courses Ltd Approved Centre
CNCA have become a Trainer Courses Ltd approved centre.