PLEASE NOTE:
From Monday 23rd March, there will be limited staffing at CNCA offices. If there is no answer from the office, please email info@cnca.org.uk. If your enquiry is urgent, please contact 07926 524572 for befriending and 07759 226185 for all other matters.
In the current climate, we are unable to undertake home visits but will be telephoning our existing clients. For any new referrals, we can offer a limited telephone befriending service and will review each case as and when we are able. Please use our referral form and check our criteria.
Our DBS Service: As our offices are closed, CNCA are unable to process any DBS paper applications. However, if you need to process an application, please go to www.gov.uk/dbs
Please note, updated changes to DBS ID checking guidelines here COVID-19: changes to DBS ID checking guidelines; and information regarding community volunteers and DBS checks here Safeguarding Factsheet: Community volunteers during COVID-19 outbreak
--------------------------------------------------------------
PLEASE SEE BELOW, USEFUL INFORMATION / CONTACT DETAILS ETC. DURING THIS TIME:

(These may change but are correct at time of publishing. We will update as new information arises)
Volunteering:
If you are interested in volunteering during this time, here is the link: https://simplyconnectcommunity.uk

Food Delivery:
If you are aware of an elderly, vulnerable person who may need help with food and essential supplies, please contact Age UK on 020 8686 0066 or email asc@adviceservicescroydon.org.uk. They will need the person's contact details, DOB, any dietary requirements and any other relevant info (eg. can they open a can or packet). They will add the person to their list and deliver around every 2 days.
Below are details of how to donate and/or volunteer: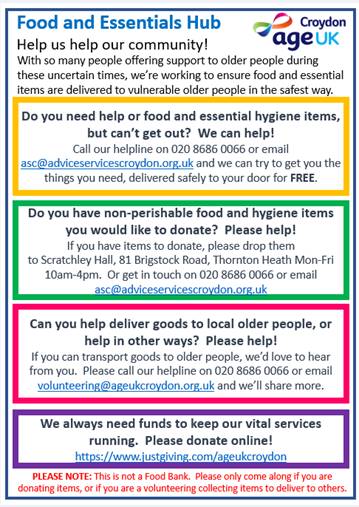 Frozen Food Delivery:
Wiltshire Farm Foods are still accepting new customers (at 24/3/20)
Order cut off time 5pm. Set delivery days to each area. Payment by cash or cheque to driver, or card payment over phone. Min order £15.
Oakhouse Foods (service availability is subject to change)
Order on line: Oak House Foods Tel: 0333 370 2512 / 020 8689 8485
Order cut off time 4pm. Set delivery days to each area. Min order £15.
Selsdon COVID19 - Food Support Group:
Selsdon Contact, Selsdon Centre for the Retired, Monks Hill Food Stop, the local Selsdon Churches, GP Surgeries, Vintage 62 and Sainsburys are all working together to provide a bag of shopping to the most vulnerable residents living in the Selsdon area.
If you can spare a few tins or some toilet roll to help a vulnerable resident you can drop a donation (if you have no food, a monetary donation would be much appreciate) at the Jubilee Cafe, Lower Ground Floor, 132 Addington Rd, South Croydon. They are open Mon-Fri 10am-3pm. Alternatively, you can make a donation through their website: Selsdon Contact.
They are particularly looking for the following items --- tinned or packet soup, sugar, washing powder, tinned fish/meat, toilet roll, long life milk, pasta, baked beans, tea bags, soap, rice, tinned veg, coffee, tinned pies, instant mash, powdered milk. They also need fresh produce regularly (milk/bread/veg etc).
Community Projects
The Fieldway and New Addington Food Stop
A community food-sharing membership scheme. Tues & Wed, 10-12. The Family Centre, Fieldway, New Addington, CR0 9BS. Tel: 016889 844 277. Email: familycentre.fieldway@virgin.net.
Parchmore Community Connect & Food Stop
Tel: 020 8653 7353 Email: becky@parchmore.org
Supermarket Shopping Times for Older/Vulnerable Residents - March 2020 (C19)
Tesco (not smaller stores or express) ... Mon, Wed & Fri: 9-10am
Sainsburys (not smaller stores) ... Thurs: 7-8am
Morrisons ... Mon-Sat: 9-10am
Asda ... Before 9am
Iceland ... Before 9am
Other Services
Sainsburys telephone ordering service: 0800 328 1700
Iceland telephone ordering service: 0800 329 0800
Milk & More: 0345 606 3606
Parsley Box: 0800 612 7225 (vacuum-packed meals delivered within 2-4 days, 10 for £29.99)
Topping Up Gas & Electricity Prepayment Meters
The government has issued guidance supporting residents using prepayment meters (gas and electricity) who cannot leave their homes due to Coronavirus. The guidance asks residents to contact their energy suppliers to discuss options for keeping them supplied. This could include nominating a third party for credit top ups, having a discretionary fund added to their credit, or being sent a pre-loaded top up card so that their energy supply is not interrupted. Ofgem have also added the information to their website. The links are here:
COVID-19 Trading Standards Alert
Croydon Council have issued the notice below.
Trading_Standards_Alert_-_Coronavirus.pdf
Emergency Support Numbers:
Please click on the link below for details of support during Covid-19:
Croydon Mencap:
Croydon Mencap have created a website page with a wealth of useful information and links to resources that may be of help to you during the current crisis:
Social Distancing - Different Languages:
Please see link below to guidance on the Coronavirus and social distancing in various (34) languages:
---------------------------------------------------------------------------------------------------
CNCA is an infrastructure charity who have a significant membership of Groups and Neighbourhood Cares across Croydon; all of whom provide essential support services for the over 65s. CNCA provides capacity building, fundraising support, information forums, advice and training support.
We also run an offical Disclosure & Barring Counter-Signatory service.
We have the only complex Befriending service in Croydon, providing home visits to frail, elderly, housebound people with complex needs and often a dementia diagnosis. Referrals predominantly come from statutory agencies, particularly social care, and we carry out a long term piece of work, supporting those very vulnerable clients to stay safe in their own homes. Alongside this, is a volunteer run telephone-Befriending service and a 'keeping in touch' service with ongoing communication to other agencies involved and any relatives or friends - especially those living a distance away or abroad.
__________________________________________________________
PLEASE NOTE
As you may be aware the local authority is launching an eMarketplace Website which will include a Directory of Services in which we, along with the other voluntary organisations and private companies in the borough, will be a part of.
Our member groups will still be on our website until 31 March 2020 when we will review the situation. The directory of neighbourhood care services will not be updated before that date.
_____________________________________________________________________________________
#500CroydonHampers
The map below shows where our 2019 Christmas Bags were distributed across the Borough. They were incredibly well received and we would once again like to thank our very generous donators.
Some fabulous feedback from one of the recipients:
"I came home last night to find a bag bulging with Christmas goodies. I just wanted to say a very sincere thank you to whoever thought of me and took the trouble to put the bags together. I am very grateful and shall enjoy the contents over Christmas. It is such a kind thought especially as I am feeling bereft without my husband. You have lifted my spirits and I wish you all the blessings of Christmas and very happy 2020".
And from one of our groups:
---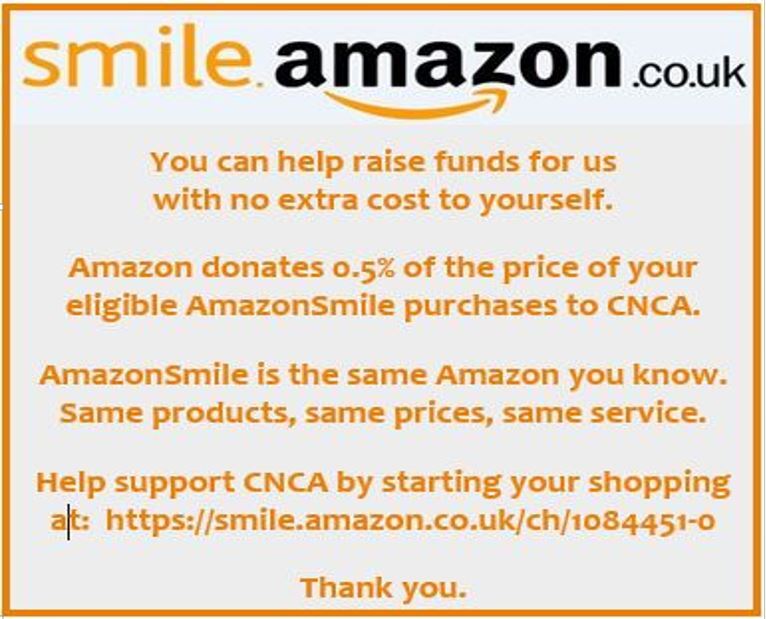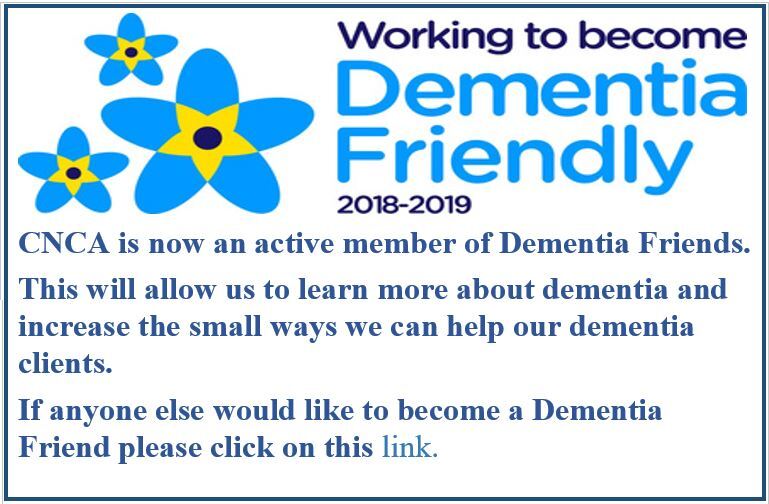 ---