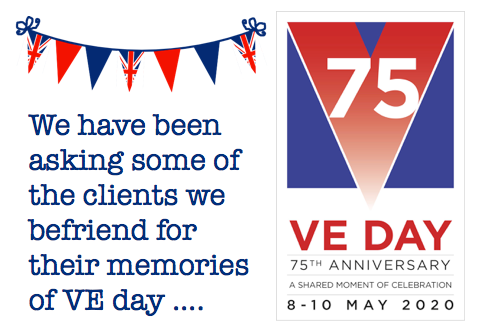 JN was 14 and her older sisters were in their late teens. VE day was incredibly exciting; they were up in Leicester Square and people were bursting with joy, kissing and hugging each other. There were lot of American servicemen about, which was fun for her older sisters, and the atmosphere was incredible. During the war, J's family moved three times as their homes were bombed out, and they spent the nights for the whole of the wartime in the air raid shelters. J had 4 brothers and sisters, so she imagines her mother must have had a hard time looking after them; but, as she was quite young, it was a fun and exiting time.
HS was a young girl in her native Guyana on VE day and there was lots of joy and happiness when the war ended. On VE day people all drove out to the countryside and had picnics. She remembers all the flags being waved. Guyana was a British colony at the time and became independent in the 60s.
BP was a young boy of 11 in Croydon on VE day. He remembers climbing to the top of the diving board at the Purley open-air swimming pool and watching the bombers taking off at Croydon Airport.
B was 13 years old and a Burmese national during the second world war. She was evacuated to India with her Sister in 1942 and stayed there for the duration of the war. Even though the war was still being fought against the Japanese, it was a huge boost to know that the allies had won the war in Europe because it gave everyone hope; and they had a special mass to mark VE day.
J was 11 years old and remembers being dressed up as an angel on VE day. She was driven around on a lorry with many others in London to celebrate.
JD remembers her cousin being evacuated to Wales. However, the family who hosted her were unkind to her, so her Mother had her brought back to London. They celebrated VE day with a street party with their friends and neighbours.
DS was sadly receiving treatment in a hospital on VE day and after being heavily sedated for a week or more, her first memory of knowing the war was over was when she woke up a few days after VE day and another patient told her what had happened. Another time she recalled was again after waking up after being yet again sedated. There were no doctors or nurses on the wards. When she asked where everyone was, she was told by one of the auxiliary nurses that they had all gone down to the coast to meet the injured coming back on the little boats after the D Day landings.
PN memories of the war were that each time her Father came home it wasn't long after her Mother had another baby. PN told me she had four Brothers and Sisters …. haha
HB was eight years old during the war. He was evacuated firstly to Folkstone to a family who treat him dreadfully, making him do all the chores. He told me because they weren't allowed to mix with the the children of the school they attended, the evacuees went in the morning and the other kids in the afternoon. He and his palls ran riot round Folkestone trying to make a few shillings for themselves as they didn't have any money. When the fisherman came back into the harbour they collected all the sprats that fell from the net and filled their socks up with them selling them on for pocket money.
MS lived up north and on VE day she said it was just another day for them as she remembers going to school but had no celebrations.
NH was 6 on VE Day. He was born in Devon and came to Croydon when he was about 12 years old. His Father had been in the RAF during the war. He does remember a School Hall Party to celebrate VE Day. The first time he saw a banana was when he came to Croydon in @ 1951.
LH was 9 years old. He was living in Croydon and his Mother took him to Thornton Heath Clock Tower where lots of people had gathered and were dancing. His father was in the Home Guard in Balham as he had a reserved occupation.
OO was 16 years old on VE Day. She lived in Croydon and was evacuated to Devon where they stayed in a lovely home that was owned by a Lady T. When she came home she started work at 14 Years old in St James Street and then at the Royal Exchange where she worked for 40 years. She said that travelling to London daily was a worry as so many of the buildings had been bombed. She remembered seeing Buckingham Palace after the bombing. She didn't remember street parties but possibly something at her local church.
DB's father was in the Royal Engineers and spent 4 years in North Africa doing mine clearance. He didn't talk about it with his family as he lost some very good friends while carrying out his duties. He was then transferred to Gibraltar as they thought the Germans were going to invade. On a happier note, he met a lovely lady there and, to his families surprise, returned home from the war a married man. They were happily married for over 60 years and remained in England where they brought their Son up.


Jan: I was 12 on V E Day and remember the joy of that day. Both of my parents had been in the army; my father had got back safely from Dunkirk and they were both still alive. I also remember the joy of taking down the horrible black-out curtains and in the evening seeing lights shining out of every house, after years of darkness. I was evacuated from the age of 6, first to the wilds of Yorkshire (my home County) then to the USA for four years. I came back from the land of plenty in November 1944, to rationing - one egg and four ounces of meat a week! WE had survived.
Frieda: I was in Cardiff at the time, having been evacuated from London. I was attending the Furzedown Teachers Training college, in Streatham. London was a prime target for bombing, hence the need for our evacuation.
I was in a billet in Rhiwbina, in the North side of Cardiff, with a Family.
The mother and child were at home always, but the husband/father was in the forces.
On V.E Day, I remember that we travelled to a beach in Penarth; a treat, as the War had ended after 6 years.
There was a street party held in Cardiff and people were very happy. People brought food and enjoyed a fine time together celebrating.
My brother was three years older than myself, and had been taken as a prisoner of war earlier during the fighting. A few weeks after V.E.Day he returned home, and I was given 2 weeks leave from college to return home to be with my family. A great family reunion.
Streatham College had minimal damage - broken windows and some other bits needed repair, but as I recall, not too much damage done.
Rationing continued well after the war ended.
Martin: I attended Repton School in Derbyshire, both during the war years, and at the time of V.E.Day. I was the son of a Clergyman, and due to a number of reasons, I was at the school boarding.
I had attended maybe seven or 8 schools due to my Father moving around the country in his role as a clergyman.
Other boarders were children of H.M.Armed Forces, as well as other clergy.
My Father was in Scotland but like many English parents, he wished for me to be educated at an independent school in England. English family - English education.
On the announcement of the War ending, the staff at our school gave us packed lunches and sent us all out for the day. They also wanted to have their celebrations, no doubt.
We all left the college and walked to the village doing as we wished. I went through the village as I wanted to explore the outskirts
I always loved maps and exploring new places so I was happy wandering around with a map to do just that.
The weather left a lot to be desired and it was drizzling rain, so I remember going into a public telephone box to eat my sandwiches.
So I celebrated V.E.Day just like that, in a public phone box eating sandwiches.
* Martin found this highly amusing.
Violet: As a family we lived in Blackfriars for a good number of years, then moving to Kennington, in Lambeth. We moved there when I was 9 years old, and I lived there until I was fifty years old, at the same house. We lived opposite the park.
I recall that when I was young seeing the soldiers marching out to war, and I asked my mother where they were going. My mother explained to me they were going to fight to keep us all safe.
In my later years I worked at the Beefeater Gin Distillery for some time.
At home we used to listen to Dick Barton Special Agent on the radio, and the sound of the radio used to fade away. Our radio was an acid battery capacitator, and we had to keep a screw driver close by to make it louder.
I remember all too well when the second world war ended, it was announced on the radio.
The announcement made everyone happy and we all wanted to celebrate. My friends and I all attended the Larcom Youth Club at the back of the Walworth Road, and we all met up at the Elephant and Castle to travel up to Trafalgar Square together and enjoy all the celebrations to mark the end of the war. We were all about eighteen/nineteen years old I suppose.
There were crowds of people all over London, dancing in the streets, singing and shouting. Lorries brought the soldiers from the barracks at Kennington and Woolwich Royal Arsenal, to join in the celebrations.
In the crowds my friends and I got separated and just a few of us stayed together.
It started to get late and knew it was time to start back for my home, so a boy friend and I started to walk back towards the Oval station, but there were bonfires as we walked, people drinking and having parties in the street, all neighbourly and stopping us as we walked, offering us drinks and friendship. It was different in those days than it is now.
We both lived at the back of the Walworth Road, but walking took us much longer because we continually stopped to join in the fun.
It was getting later, and when we arrived back at my home, I did not know how I was getting indoors. I did not want to wake up my parents.
I told my friend that my Sister, Joan, was out for the night, so I couldn't even try to wake her up at the top window.
They were large Victorian houses with a veranda, so he said he could climb up to the bedroom and get in through the window.
I think he climbed up a lead pipe to the balcony, and pushed up the window, but as he did so my Sister was laying in bed and screamed out. What a shock!!
This woke my Father, and he really went off, asking him who he was and he explained he was my friend, had just tried to get me in the house. Then he left and my Father was mad at me, but my Mother said "this is a one time occasion, leave it alone," and she managed to calm him down.
My Father took me and my Sister to the shops for food the next day and he was ok by then.
But I remember V.E. day 1945 well, and I do enjoy telling stories and reminiscing. There are so many memories in my lifetime.
Maybe I can tell them another time!!!
Margaret: I was aged thirteen and a half years old when war was declared.
I was living with my Mother in Staines, Middlesex. My Step- Father was an Army reserve posted in Folkstone.
My Sister older by 10 years was working, and my Brothers older than me by two years, and four years, were also away from home.
My Mother and I then moved to Folkstone, to be with my Step-Father.
In 1940, during the Dunkirk evacuation, I would watch the trains from my bedroom window returning from Dunkirk. I would always wave as the trains went by, to the soldiers returning home.
Later in 1940, my Step-Father was posted to Reigate, Surrey, so we needed to move house again.
We rented a house in Reigate, from a landlord.
At fourteen I left school and went to work in the Town Hall as a filing clerk. The landlord helped me to get this first job in an office.
I remember that underneath the Town Hall there was an Air Raid shelter, but as I recall Reigate was relatively quiet throughout the war years.
Often you would hear the buzz bombers (V1 Flying Bomb) passing over, and I recall an American plane crashed into trees in Reigate Hill.
We had a cardboard box to keep our gas mask, I.D.Cards and ration cards.
I used to collect rations from Sainsbury store. Then it was very different, all different counters, and they would flatten out the large butter with wooden paddles, and then cut size to ration. About 2 ounces each week.
I remember well how we had to use the black out curtains, and the Air Raid wardens would come around checking that you had done this correctly, as it was very important that any overhead planes did not see light from the windows.
There would be notices in the Electricity showroom, advising of power cuts, which were quite frequent. This would give you the opportunity to prepare with candles for lighting. I would see lots of soldiers around the area, attached to the South East command, and some Canadians were also about.
I was aged nineteen toward the end of the war and used to go with friends to the Nissan Huts, where dances were held, and many soldiers attended these dances. It was innocent days. Sometimes we would travel by train to Redhill, and go to Lakers Hotel for dancing. Gatwick airport was used by the R.A.F. only at this time, and they would go along to dance sometimes. Merstham Town Hall held dances, and the soldiers always came along. The Town Hall carpark was used as the Fire Station, and there was dances held there too…lots of dancing,!!!!
When the end of the war was announced , for me there was a strange sense of freedom - bunting was hanging everywhere.
We danced in the square in Reigate after the announcement. We were HAPPY.
(Sweets and bananas were scarce for a long time afterwards).
Betty: I remember very well the day an announcement of the end of the Second World War came over the radio. I was at home with my family.
It was the 8th May 1945, VE Day, and Winston Churchill made the announcement.
I was working as a Nursery Staff Nurse near Hurst Pier Point, near Brighton. The large mansion house had been requisitioned by the War office to serve as a nursery. It was located in the middle of the high street.
The owner of the house lived in a nearby hotel, and half the house was closed off to us to store their furniture, chandeliers and antiques. I suppose they were very wealthy.
It was a nice happy place, and we took care of children who had been evacuated from the East End of London and also the local children whose mothers may have been working in munitions, or other employment, and required childcare.
I think it was in the afternoon the announcement came that the war was finally over, and my Father and I danced through the High Street, dancing the polka, whilst my Mother stood on the pavement and watched us.
The following day, I went to London to meet a boyfriend, and everywhere people were cheering and shouting out to each other. It was a great day up there with all the crowds.
My Cousin, a boy aged about 15yrs, climbed up the lamp post near Buckingham Palace, sat at the top and waved to everyone passing by. There is filming of this in the news reels of Gaumont British News Reels. My Cousin passed away at ninety years old, but will be remembered for this act of high spirits always, or certainly in the archives of Gaumont News.
Anne: Born in Galway on the North Side, moved to Ballinasloe, most part of County Galway in Connacht.
The family built a home there. Her Father was a police officer, and when he was wounded he needed hospital treatment but the Mater (Mother) hospital refused to treat him as he worked for the British Police. He was treated at another hospital.
Anne said they knew little of the war as Ireland remained neutral during W.W.2. They did not wish to support the British as they did not wish to have a replay of events they had suffered during the Civil War, 1922.
German aircraft did bomb Ireland during the war in 1940, in County Wexford, and again in 1941 on the north strand area of Dublin city.
Anne returned to Dublin at the age of 19 years, to work there. It was 1942 and the war had commenced 3 years earlier but had little effect on Southern Ireland, as already stated.
Anne resided in Athlone, 113 km. from Dublin.
She said they danced every night and fun did not cease in Dublin. Anne has recollection of Winston Churchill's request to Eamon De Valera, to use their Irish port for British ships, but he refused.
Lots of American soldiers whose Irish parents had emigrated to the USA would visit families when travelling.
She recalls a friend asked her to take an American soldier to show him a hotel as he required accommodation. He wanted to book a room for 2 but Anne refused- saying her Father would" kill her" should she do anything like that.
Anne chuckled at the thought.
Jean: So, if my VE celebrations were somewhat tame, you may be sure my VJ celebrations were not. On the Tuesday night that the news of the Japanese surrender came out, I happened to be up in London. My Cousins and I had gone to see Wendy Hiller & Robert Morely in the First Gentleman. When we came out we joined the stream of people and made our way to Picadilly Circus. Oh boy! What fun.
There were thousands of people there. Rockets and squibs would come snaking through the air at you and explode with a terrific report in your ear. Lively, I called it! Women screamed, we dodged, and the more unfortunate ones were burned. Over 200 people were taken to hospital suffering from burns. I should think these peace night battles were almost as bad as those of the war.
Ruth: My evacuation experience was rather different from others. Here is a link to an article that Ruth wrote in 'The Evacuee' magazine.