VE Day Memories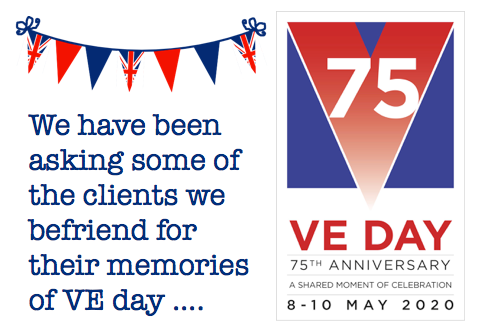 JN was 14 and her older sisters were in their late teens. VE day was incredibly exciting; they were up in Leicester Square and people were bursting with joy, kissing and hugging each other. There were lot of American servicemen about, which was fun for her older sisters, and the atmosphere was incredible. During the war, J's family moved three times as their homes were bombed out, and they spent the nights for the whole of the wartime in the air raid shelters. J had 4 brothers and sisters, so she imagines her mother must have had a hard time looking after them; but, as she was quite young, it was a fun and exiting time.
HS was a young girl in her native Guyana on VE day and there was lots of joy and happiness when the war ended. On VE day people all drove out to the countryside and had picnics. She remembers all the flags being waved. Guyana was a British colony at the time and became independent in the 60s.
BP was a young boy of 11 in Croydon on VE day. He remembers climbing to the top of the diving board at the Purley open-air swimming pool and watching the bombers taking off at Croydon Airport.
B was 13 years old and a Burmese national during the second world war. She was evacuated to India with her Sister in 1942 and stayed there for the duration of the war. Even though the war was still being fought against the Japanese, it was a huge boost to know that the allies had won the war in Europe because it gave everyone hope; and they had a special mass to mark VE day.
J was 11 years old and remembers being dressed up as an angel on VE day. She was driven around on a lorry with many others in London to celebrate.
JD remembers her cousin being evacuated to Wales. However, the family who hosted her were unkind to her, so her Mother had her brought back to London. They celebrated VE day with a street party with their friends and neighbours.
DS was sadly receiving treatment in a hospital on VE day and after being heavily sedated for a week or more, her first memory of knowing the war was over was when she woke up a few days after VE day and another patient told her what had happened. Another time she recalled was again after waking up after being yet again sedated. There were no doctors or nurses on the wards. When she asked where everyone was, she was told by one of the auxiliary nurses that they had all gone down to the coast to meet the injured coming back on the little boats after the D Day landings.
PN memories of the war were that each time her Father came home it wasn't long after her Mother had another baby. PN told me she had four Brothers and Sisters …. haha
HB was eight years old during the war. He was evacuated firstly to Folkstone to a family who treat him dreadfully, making him do all the chores. He told me because they weren't allowed to mix with the the children of the school they attended, the evacuees went in the morning and the other kids in the afternoon. He and his palls ran riot round Folkestone trying to make a few shillings for themselves as they didn't have any money. When the fisherman came back into the harbour they collected all the sprats that fell from the net and filled their socks up with them selling them on for pocket money.
MS lived up north and on VE day she said it was just another day for them as she remembers going to school but had no celebrations.
NH was 6 on VE Day. He was born in Devon and came to Croydon when he was about 12 years old. His Father had been in the RAF during the war. He does remember a School Hall Party to celebrate VE Day. The first time he saw a banana was when he came to Croydon in @ 1951.
LH was 9 years old. He was living in Croydon and his Mother took him to Thornton Heath Clock Tower where lots of people had gathered and were dancing. His father was in the Home Guard in Balham as he had a reserved occupation.
OO was 16 years old on VE Day. She lived in Croydon and was evacuated to Devon where they stayed in a lovely home that was owned by a Lady T. When she came home she started work at 14 Years old in St James Street and then at the Royal Exchange where she worked for 40 years. She said that travelling to London daily was a worry as so many of the buildings had been bombed. She remembered seeing Buckingham Palace after the bombing. She didn't remember street parties but possibly something at her local church.
DB's father was in the Royal Engineers and spent 4 years in North Africa doing mine clearance. He didn't talk about it with his family as he lost some very good friends while carrying out his duties. He was then transferred to Gibraltar as they thought the Germans were going to invade. On a happier note, he met a lovely lady there and, to his families surprise, returned home from the war a married man. They were happily married for over 60 years and remained in England where they brought their Son up.